Welcome to Our Neighborhood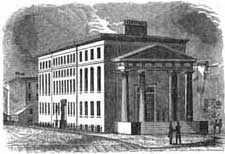 Court Square gets its name from the courthouses and prisons to which it has been home for most of Boston's history. The drawing to the right shows the "New Courthouse" in 1838. It was the last — the courts moved to Pemberton Square early in the 20th century and the building was demolished to make way for a municipal building that for years was home to the Boston School Committee.
But much of what makes the area interesting happened not in the courthouse, but on the streets and in the nearby buildings. Our tour covers —
We also have a few old photos showing the way we were.