Invention of the Telephone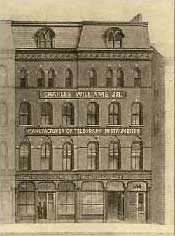 "Mr. Watson, come here — I want to see you."1 Those words uttered by Alexander Graham Bell on March 10, 1876 ushered in the age of telephony. They were spoken around the corner at 109 Court Street. Don't try to find the address, however, that part of Court Street is now called Cambridge Street.

Bell rented space above Williams Electric, a manufacturer of telegraph equipment. Williams was also an early subscriber of Bell's and had what is believed to be the first permanently installed home phone. His office and home phone numbers were easy to remember, they were 1 and 2.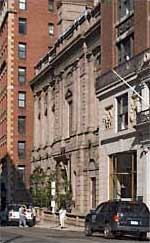 Bell's first public demonstration of the telephone was also in the neighborhood at a meeting of the American Academy of Arts and Sciences held at the Boston Athenæum, 10½ Beacon Street. Bell ran a wire from an office in an adjoining building through a window at the Athenæum. The building (since expanded) and meeting room are still there today.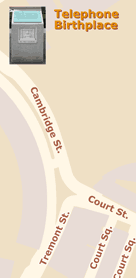 The birthplace of the telephone is marked by a granite block on the plaza at Government Center outside the Federal building.
-----
Noted on pages 40 and 41 of Bell's lab notebook.