In Our Neighborhood
Downtown Boston has a number of interesting and infamous places: the site of the Boston massacre, where the telephone was invented and first demonstrated, the office of Charles Ponzi. Probably nowhere else in the country outside Washington have as many prominent events taken place within a three-block radius.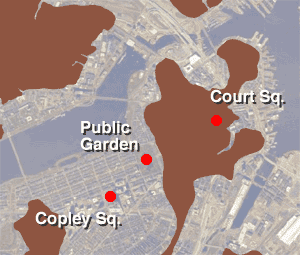 Why so much in such a small place. Two reasons come to mind. First, unlike "newer" neighbor­hoods that sit on landfill, the ground under Court Square has existed throughout Boston's history. The adjoining map1 shows 1630 Boston (brown) superimposed on a 2005 aerial photo. Many of the places we live and work today didn't exist until fairly recently.
Secondly, Boston is an old city by American standards, soon to celebrate its 400th birthday. For much of that time it has been a center for education, finance, medicine, politics and technology. Our neighborhood has been there through all of that.
Simply put, when you have been around a long time, you see a lot.
Map created from 1630 Boston outline and 2005 aerial photo obtained from BRA's Boston Atlas.