WordPress Tips
GETTING STARTED WITH WORDPRESS.
Thinking about using WordPress to create a web site, but not sure whether it will meet your needs? Here is a quick overview of what it is and how it works.
Web 101. In essence web pages are HTML-coded text files. The HTML provides the pages' structure and format. When you visit a site the files are downloaded to your computer and decoded by your web browser.
Rather than storing finished pages containing both content and HTML directly on the server, WordPress saves your content in a database and the HTML codes in a WordPress theme. When a visitor comes to your site, WordPress combines the content with the theme's HTML to create the files that are sent to the visitor's computer.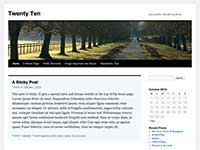 WordPress Themes. Because the look and capabilities of a WordPress site are controlled by the theme, it is important to pick one that meets your needs. Thousands are available, some are free.
Some themes add controls to the WordPress dashboard, which provide options beyond those of the WordPress software itself. If your theme installs these added features, be sure you get instructions for them since they will not be explained on the WordPress.org web site.
Compatibility is always an issue in building a web site — you want to make sure your site renders correctly in all popular web browsers and mobile devices. Some themes are described as "Responsive," which is supposed to mean that they will adapt page rendering to browser capabilities. Test before you invest too much time in a theme — you don't want to build your entire site around it only to find out later that it doesn't work correctly for everyone.
Can I Use WordPress to Make a Web Site? Yes. WordPress makes things confusing by referring to what it creates as "blogs," but you definitely can use it to create traditional web pages.
Within WordPress you make "Posts" and "Pages." The tools for building them are similar, but the results are displayed quite differently. Pages are presented one at a time, so you can have a separate page for each of your company's products. Posts are collected and displayed on a single page forming what most people think of as a "blog."
People are also concerned when they see that WordPress pages have a box where visitors can write comments, something you don't see on most web pages. This comment box is the default, but it can be removed for any page or post.
Where Do I Get WordPress? WordPress runs on your site's web server, not your personal computer. If your web server is at your office, you can download the software for free from wordpress.org. If you use a web hosting company, they typically will already have WordPress; you just need to have it made available for your account.
Can I Try WordPress? You can set up a free account at WordPress.com and use it build your own site.
-----
Twenty-Ten, one of the free themes available at WordPress.com.