Music Beneath Our Feet.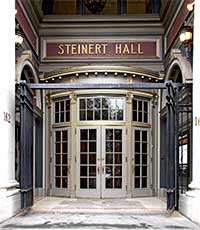 Boston's pulse beats in many interesting and unusual places. Some are hidden below the streets, including smugglers' tunnels rumored to exist in the North End, a spring that gurgles below Beacon Hill and remnants of a seven-mile pneumatic mail system (see Underground Mail). One of the most curious is a 650-seat concert hall sitting forty feet below Boylston Street. Isabella Stewart Gardner presided over its grand opening and for decades it hosted many of the world's leading artists.1
Boston's Piano Business. The name of this hidden gem is Steinert Hall. It was built in 1896 by M. Steinert and Sons, piano dealers and a Boston institution that continues to do business at the same location more than 120 years later.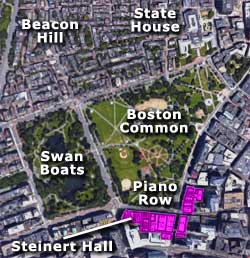 Pianos were the home entertainment centers of the Victorian world — families gathered around them to sing popular tunes or be serenaded by talented friends. Boston was home to several piano manufacturers, including Chickering, once America's largest, Mason & Hamlin and Steinert. Some companies sponsored recital halls where they could showcase their products and promote interest in piano music. Steinway Hall in New York is probably the most famous of these.
Boston music businesses were clustered along Tremont and Boylston Streets across from Boston Common. The area was known as Piano Row. Over the years Steinert occupied several buildings in the area. By the 1890s its facilities were at 190 Tremont Street and included a 350-seat concert hall.
In 1895 Steinert decided to erect a new building devoted exclusively to music. Its showrooms and offices were on the first three floors, soundproof studio space on the upper levels and a 650-seat recital hall in the basement. At the time, the only other underground performance venue was London's Criterion Theater.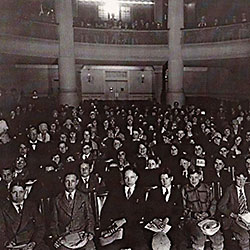 Why Below Ground? Victorian streets were notoriously noisy, especially in heavily trafficked downtown areas. Transportation meant horses with metal shoes hauling wagons with iron-rimmed wheels across cobblestone streets. Noise pollution was so bad that Boston and New York banned traffic on certain streets near hospitals and legislative chambers.3
With forty feet of insulation shielding Steinert Hall from the sounds of urban life, engineers had total control over its acoustics. Professor Charles Cross of M.I.T. was chosen for this task.
The Finest that Could Be Had. That's how the Boston Globe described Steinert Hall's amenities. Naturally, it had electric lights, the public insisted on them for safety after a gas fire killed over 200 people at the Paris Opera House in 1887.5 But 1890s electric lighting often meant the harsh glare of exposed bulbs — Steinert Hall's lights were recessed so that the light appeared to "come from the walls themselves."6
The hall also provided an intimate setting for chamber music and song recitals. Patrons especially appreciated the low stage, which placed the audience near to the performers and provided optimum acoustics for piano music.
The Center of Music in Boston. Steinert Hall opened on December 16, 1896 with a concert featuring pianist Carl Baermann and the Kneisel Quartet. Isabella Stewart Gardner and her party watched from their box on the balcony. The mayor attended, as did the Boston Symphony's conductor and other prominent musicians and music lovers. The Boston Globe said "the beautiful gowns of the ladies and evening dress of the gentlemen gave the affair standing as one of the social functions of the season as well a musical event of importance."7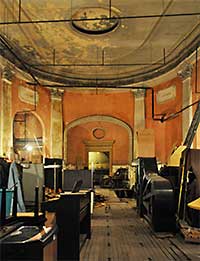 For nearly fifty years the world's leading classical musicians took their bows at Steinert Hall, including Fritz Kreisler, Boston composer and pianist Amy Beach, and Ignacy Jan Paderewski, a pianist and composer who later became Prime Minister of Poland.
Why Did It Close? New halls, changing musical tastes and the availability of radio broadcasts and inexpensive recorded music led to declining attendance in the 1930s. Then the fire at the nearby Cocoanut Grove lounge (see The Cocoanut Grove) led to safety requirements that would have been expensive for an underground concert hall to meet. The last concert took place in 1942.
* * * * *
Today Steinert Hall is largely forgotten, described by a Steinert employee as the place old pianos go to die. But as often happens with changing tastes, what's old can become new again. The Steinert Building was recently purchased and the new owner is making improvements. They say they would like to renovate and reopen Steinert Hall. No details have been announced, but as they say … stay tuned.
-----
Information from this article comes from Carl Licence, Piano Row and Its Hidden Secret (May 10, 2017) on History of Boston and Beyond web site, Regina F. Graham, Inside the Abandoned Music Hall 40 Feet Under the Streets of Boston, London Daily Mail (July 13, 2107) and Lee Eiseman, Keyboard Spirits Revive (May 21, 2015) on The Boston Music Intellegencer's web site.
Violet area indicates boundaries of Piano Row historical district. Details are archived on the web site of the Massachusetts Cultural Resource Information System.
Clay McShane and Joel A. Tarr, The Centrality of the Horse in the Nineteenth-Century American City, in Raymond A. Mohl (Editor), The Making of Urban America (Second Edition), pp 121-22, SR Books (1997).
Photo posted to Pinterest by M. Steinert & Sons.
Ernest Freeberg, The Age of Edison, Electric Light and the Invention of Modern America, Penguin Press (2013).
Home of Music, Formal Opening of the New Steinert Hall, Boston Globe, p. 6 (December 17, 1896).
Articles in Boston Evening Transcript, p. 5 (December 17, 1896) and Home of Music, Formal Opening of the New Steinert Hall, op. cit.
Photo from Greig Lamont's web site, A Project in Ruins, a Photographic Study of Abandonment (July 8, 2011).
This article originally appeared in our free semi-monthly newsletter. To receive future issues, please add your name to the subscription list.