Underground Mail.
Once upon a time important things were sent by postal mail — business proposals, vital news, greetings from loved ones far away. People waited anxiously for the mail and it was handled accordingly — two deliveries a day at home, three to four at work. Same or next day delivery for the price of a stamp may seem a fantasy today, but a century ago it was expected in major cities. And to meet the demand for speedy delivery, the Post Office built networks of underground tubes to transport the mail.1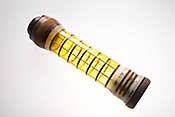 What Is Pneumatic Mail? Pneumatic delivery systems use air pressure to move cylinder-shaped carriers from one end of a tube to the other. Beginning in the nineteenth century retail stores used them to transfer cash and receipts between sales people and back office employees. The CIA even had a system to move messages between agents in its Washington-area facilities.3 Usually the tubes run in pairs, permitting two-way communication.
Early Mail Systems. In 1853 the London Stock Exchange began using small pneumatic tubes to send dispatches to the central telegraph office. Berlin, Paris and Vienna built similar systems for mail. The first system that could handle larger items began operation in 1893 between the main Philadelphia post office and a branch about a half mile away. Impetus for this innovation came from Postmaster General John Wanamaker, who had previously installed one of the first large retail tube systems in his Philadelphia department store.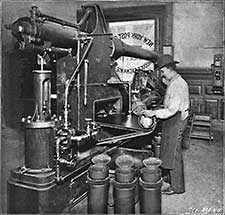 In 1896 Congress authorized systems for Boston and New York. The New York system opened with ceremony on October 7, 1897. The first delivery contained a Bible, a flag and copies of the Constitution and President McKinley's inaugural address. A few minutes later a mail sack came back containing a live tortoise-shell cat.4 Although the usual fare was letters and small parcels, over the years the system supposedly was used to rush a sick cat to an animal hospital and ferry sandwiches from a shop in the Bronx to hungry postal workers in Manhattan.6
The New York system eventually covered 26.5 miles and included a tube across the Brooklyn Bridge. In Boston the system covered 7 miles and connected the main post office with North and South stations and went as far as Uphams Corner and Roxbury.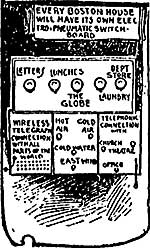 1900's System of the Future. The systems were a success, providing speed and reliable service regardless of weather. A horse-drawn wagon traveled about 5 miles per hour, the underground systems could do 35. And when winter storms brought traffic to a halt, businesses could still count on mail sent underground. Pneumatic tubes carried about a third of the mail in New York and as much as half in Boston.
As the new century dawned in 1900, pneumatic tubes appeared to be the delivery system of the future, not just for mail but also for larger packages and people. A 1900 article in the Boston Globe predicted that by the end of the 20th century pneumatic tube systems would serve households directly and provide delivery not only of mail, but also daily newspapers, ready-made lunches, laundry and department store purchases.8 The author seems to have envisioned Amazon nearly 120 years ago.
What Happened? If the system worked so well, why don't we use it today? The culprits were cost and technological change. The advent of motor vehicles eliminated the underground tubes' speed advantage. Moreover, the Post Office had to go through the Congressional Budget process every year for funding. Operations were suspended in 1902 for lack of funding and again during World War I. The Boston system was closed in 1950 and New York in 1953.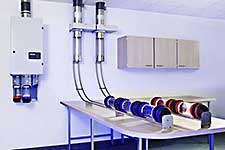 What's In the Future? Good ideas never die, they just change to meet the times. Stanford Hospital uses four miles of pneumatic tubes to convey medicines and lab samples around its complex.10 A pneumatic garbage removal system has been proposed for parts of Manhattan.11 And Elon Musk's proposed 800 mph HyperLoop would move people in pods traveling through elevated pneumatic tubes.12
-----
Information for this article comes from B.C. Batcheller, "A Pneumatic Dispatch-Tube System for Rapid Transportation of Mail in Cities," Transactions of the American Society of Mechanical Engineers, Vol. XX, p. 373 (December 1898); and John Liffen, "Mail Tubes: The Modern Communications System of the Nineteenth Century," p. 70 (presented at Artefacts IV September 1999).
Image from CIA Museum web site.
CIA Museum web site.
Mail Tube is a Success, N.Y. Times (October 8, 1897)
Image from Scientific American, Vol. LXXVII, No. 24, p. 1. (December 11, 1897).
Robert A. Cohen, The Pneumatic Mail Tubes: New York's Hidden Highway and Its Development (1999).
Image from Thomas F. Anderson, "Boston at the End of the 20th Century," Boston Globe, p. 6 (December 25, 1900).
Ibid.
Hospital pneumatic tube system manufactured by Aerocom GmbH & Co. Image from Aerocom web site.
Sara Wykes, Gone with the wind: Tubes are Whisking Samples Across Hospital, Stamford Medical web site (January 11, 2010).
Dante D'Orazio, Proposal maps out Pneumatic Tube System to take Out New York's trash, The Verge web site (September 24, 2013).
See Wikipedia article.
This article originally appeared in our free semi-monthly newsletter. To receive future issues, please add your name to the subscription list.