The Cocoanut Grove.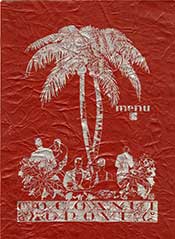 November 1942. World War II is raging overseas. At home war-time realities are setting in as gasoline rationing is about to begin. As the month draws to a close, a movie named Casablanca premieres in New York.1 Americans everywhere are gathering for the first Thanksgiving of the war and a long weekend of family, friends and traditional holiday fare.
In Boston the festivities will end abruptly as fire tears through a crowded nightclub on Saturday night. Within minutes 492 people perish and the club's name — Cocoanut Grove — is seared into the minds of a nation.
The Club. Opened during Prohibition, the "Grove" was located in a collection of one-story buildings near the Public Garden and Boston's theaters. Dining and dancing were offered nightly and the roof could be rolled back in nice weather. Artificial palm trees with cocoanut shaped light fixtures gave the place a tropical look.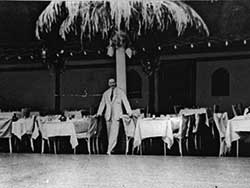 The Grove was packed on the Saturday night after Thanksgiving. In addition to the usual crowd, football fans had come over from Fenway Park following the traditional Boston College - Holy Cross game and servicemen were unwinding before shipping out to war.
Shortly after 10:00 a soldier in the downstairs Melody Lounge unscrewed a light bulb for more privacy with his date. One of the bus boys, Stanley Tomaszewski, was told to put it back. Unable to see in the dimly lit lounge he lit a match, replaced the bulb and went back to work.
The Fire. Suddenly someone shouted that there were flames on one of the fake palm trees. Employees tried to put them out, but the fire quickly jumped to decorative ceiling fabrics and instantly spread throughout the lounge. Tomaszewski and a bartender shouted for people to go through the kitchen to exits leading outside. Unfortunately many followed the instinct to use a familiar door and headed upstairs. The flames followed.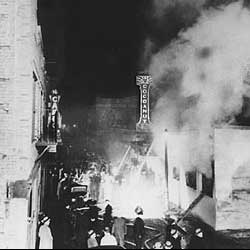 The main entrance was a single revolving door. Frightened guests tried to exit on both sides and the door soon became impassable. Few alternatives were available — some exits had been locked so people couldn't leave without paying while others were hidden behind curtains.
By chance several fire trucks were nearby putting out a small auto fire. Seeing flames they raced to the club. Patrons of nearby clubs and passersby came to help, some entering the burning building multiple times to pull people out. Unfortunately the flames and heat hampered rescue efforts. Having consumed the club and everything in it, the fire essentially was out within a half hour.
Ironically just six days earlier Boston's emergency services had participated in a war-preparedness drill simulating a Luftwaffe air attack. Now they put their training to use. Doctors and nurses at Boston City Hospital left a holiday party to tend the injured. Blood stocks were drained and the Red Cross rushed supplies from Washington. Doses of a new miracle drug, penicillin, were brought to Mass. General from military stockpiles intended for treatment of battlefield casualties.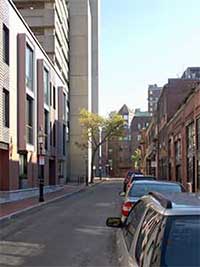 The Aftermath. The cause of the fire and why it spread so quickly are still mysteries. The busboy with the match was absolved of responsibility. No convictions were obtained against the many city officials who had routinely given the club permits despite safety violations. Owner Barney Welansky was convicted of manslaughter.5
Many safety regulations we take for granted arose from the Cocoanut Grove tragedy. Unlike the blocked entrance that killed so many at the Grove, revolving doors today always have standard, outward-opening doors alongside them. Likewise exit signs are illuminated and must have their own power source and inflammable fabrics can't be used for furnishings and decoration.
Emergency medical practices were improved as well. Burn victims at Mass. General were treated with a new technique that proved very effective. None of them died of their burns, whereas those treated elsewhere with older techniques fared less well. The procedure was published the next year in the Annals of Surgery and soon was in use everywhere.
* * * * *
November 28, 1942 was a day when fate hinged on seemingly inconsequential choices — the B.C. football team canceling its reservation after loosing badly to underdog Holy Cross, the patron stepping outside for a cigarette while waiting for the next show, the woman stopping to collect her coat on the way out. The Cocoanut Grove was by far the deadliest club fire in U.S. history. Expect to hear much more about it as we approach the 75th anniversary next year.6
-----
Entry for November 26, 1942 on History Channel web site.
Cover of a Cocoanut Grove menu from Cocoanut Grove Coalition web site.
Cocoanut Grove maitre d' Angelo Lippi in the main dining room. Image from Cocoanut Grove Coalition web site.
Image from Wikipedia.
Page on legal implications at The Cocoanut Grove Fire web site.
Information for this article generally comes from Esposito, John C., Fire in the Grove, Da Capo Press, Cambridge, MA (2005) and Schorow, Stephanie, Boston on Fire, Commonwealth Editions, Beverly, MA (2003).
This article originally appeared in our free semi-monthly newsletter. To receive future issues, please add your name to the subscription list.