How Clothing Innovation Helped Educate Thousands of Women: John Simmons and the Founding of Simmons College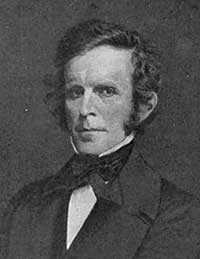 Walk into a store, try on a suit, take it home, wear it the next day — we take ready-to-wear clothes for granted. This seemingly simple idea was the product of old-fashioned American ingenuity, made a fortune for its developer, John Simmons, and helped to educate thousands of women.
Simmons' career began at his brother's tailor shop in Boston. They did things the old fashioned way — clients came in, selected garments, were measured and returned days or weeks later to pick up made-to-order clothing. This delay cost business in a port city like Boston where travelers and sailors often couldn't wait.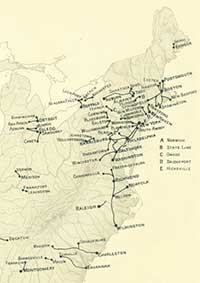 Simmons realized that if he pre-made garments in common sizes he could eliminate the wait. Produc­tion of ready-to-wear suits began in the 1830s and revolution­ized the clothing business.
Not only were ready-to-wear suits immediately available, they also made it possible to sell clothing to people who lived far from a tailor. Boston's location was ideal for this business — railroads provided access to the rest of the nation and Lowell's nearby fabric mills assured plentiful materials. Simmons' company became one of the largest clothing manufacturers in the United States.
As business expanded, Simmons brought in partners. He retired from active management in 1854 to begin a second career as a real estate investor. Eventually he owned much of downtown Boston.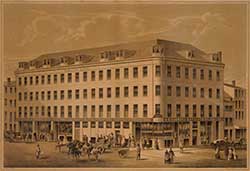 Simmons wanted to return some­thing to the working women whose labor had helped build his fortune. His estate plan provided for estab­lishment of a college where women could study subjects they could use to support themselves. He died in 1870, leaving some of his Boston properties to fund the college.
Disaster struck in 1872 when fire destroyed 65 acres in downtown Boston, including the buildings that were to fund the college. Citywide losses were so great that insurance companies couldn't meet their obligations. Eventually Simmons' representatives were able to rebuild and funds became available. Simmons College was established in 1899.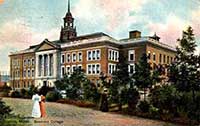 Simmons wasn't the first women's college, Mount Holyoke and Wheaton were founded in the 1830s. But those schools provided a classical education with little regard for practicality — Simmons was the first college created specifically to educate women to earn a living.
Simmons has graduated tens of thousands of women since classes began in 1902. Every year the college honors Simmons' legacy by celebrating his birthday, October 30th, as Founders Day.
-----
Photo by Chester A. Lawrence, Boston, from The Women of Tomorrow, William Hard, New York, The Baker & Taylor Company, 1911.
Railroads in Operation, December 1840, from 1932 Atlas of the Historical Geography of the United States, retrieved from Railroads and the Making of Modern America, University of Nebraska, Lincoln.
Lithograph by Moore & Crosby, Boston Public Library.
Postcard from on-line exhibit at Simmons College's web site.
This article originally appeared in our free semi-monthly newsletter. To receive future issues, please add your name to the subscription list.