Heavyweight Computing.
You can hold a computer in the palm of your hand or wear one with your glasses, but once upon a time you couldn't even lift one — forget desktop versus laptop, think room-size.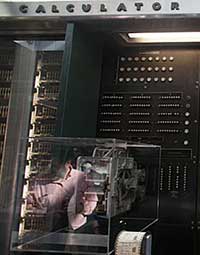 One of the first programmable computers in the United States was the Mark 1 at Harvard.1 Created during World War II, it was used for various war-related work including the Manhattan project (atomic bomb) and continued in operation until 1959.
Described in 1945 as "light weight, trim appearance," Mark 1 was 51 feet long, weighed 10,000 pounds and contained thousands of moving parts. One of its early programmers was Grace Hopper, the woman credited with popularizing the term "bug" as applied to computer glitches (there was a real insect involved, read more).
A portion of Mark 1 has been on display at Harvard's Science building since the 1990s, but the exhibit was recently expanded and made operational. The Harvard Collection of Historical Scientific Instruments has an on-line exhibit, which includes a video showing the machine in operation, or you can see it in person at 1 Oxford Street in Cambridge.
-----
For detailed history see Wikipedia.
From photo by Jon Chase, Harvard Gazette, April 7, 2014.
This article originally appeared in our free semi-monthly newsletter. To receive future issues, please add your name to the subscription list.