First Computer Bug Caught at Harvard in 1947
We all use the term "bug" to refer to computer hardware and software glitches, but few know that its origins can be traced to an actual insect that caused a malfunction on an early electro-mechanical computer at Harvard.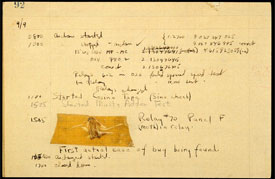 On Sep­tem­ber 9, 1947, operators searching for the cause of the problem found that a moth had become stuck in one of the machine's relays. They removed the moth, noted the event in their system log book and taped the moth to the page. Below the bug they wrote: "First actual case of bug being found."
One of the members of the Harvard team was Grace Hopper, a pioneer in early computing. She is said to have referred to the moth's removal as "debugging" the system, and generally is given credit for popularizing the term as it relates to computers.
The log book with the bug attached is now at the Smithsonian Institution and can be seen on its web site.
This article originally appeared in our free semi-monthly newsletter. To receive future issues, please add your name to the subscription list.