Speed Up FireFox, Use Flash Only When You Want It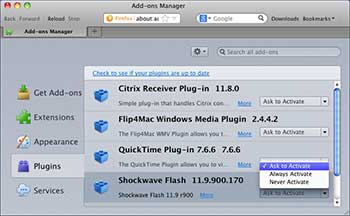 Many web sites use Flash to stream video. Many ads, including those that take over the entire screen, are also made with Flash.
Firefox now lets you activate Flash selectively — turn it on where you want it, but otherwise keep it off.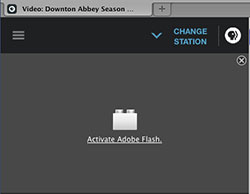 To do this, open the Add-Ons Manager (Tools). Then click on the line for "Shockwave Flash" and choose "Ask to Activate" from the drop-down list at the right.
Now when you encounter Flash content, an icon will appear asking whether you want to activate Flash. If you do, click the icon and a second question appears asking whether to activate this time only, or always for the site.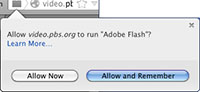 Unless you miss "Flashy" ads, most people will find that "Ask to Activate" makes web browsing faster and less annoying. It also might enhance web privacy and security since Flash can be used to track user behavior and Adobe has a less than stellar reputation for on-line security.1
-----
Pagliery, Jose. "Adobe has an epically abysmal security record." CNNMoney. October 8, 2013.
This article originally appeared in our free semi-monthly newsletter. To receive future issues, please add your name to the subscription list.