Video Conference Classes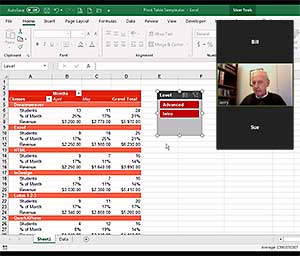 During this period of social distancing, we're moved our classes to live, on-line video conferences.
All the classes feature the same small size, hands-on exercises, and personal attention we like to think have become their hallmarks, but they're given remotely so everyone can participate safely. People can ask questions by live audio and video, or in a chat window. They can even share their screens with the group if that is helpful.
Each class consists of two half-day sessions scheduled a few days apart so people have time to practice in between. Exercise files and class handouts are distributed to participants by e-mail a few days before the class.
Check the current schedule for dates of upcoming public classes. If your group would like to organize a private class, please write to info@computerimages.com, or call us at (617) 720-6161 to work out the details.
We look forward to hearing from you.

In an age of automation,
you will appreciate the human touch.