Guides for the Lost in Love.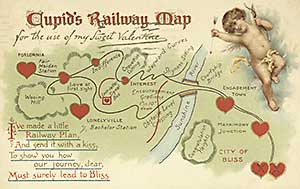 As Febru­ary 14th comes barrelling toward us, many people, often of the male gender, begin to worry how they can make a certain someone feel special. Reportedly last year's pub night watching hockey on the latest 4K TV at O'Rourke's wasn't a hit. Some seek high-tech solutions, hoping to find a GPS for the lover's heart. But there's a lot to be said for old-fashioned, tried and true approaches — after all, if they hadn't worked, none of us would be here today. So here are some helpful resources.2
Cupid's Railway Map. Someone setting out on an amorous adventure in 1907 could rely on Cupid's Railway Map. It shows the starting point for bachelors stuck in Lonelyville and where ladies board at Fair Maiden Station. Lucky couples get the "Love at First Sight" express, which highballs over the Sunshine River straight through to the City of Bliss.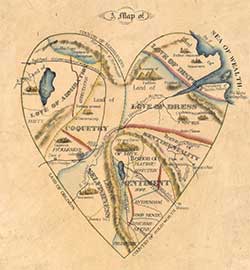 The less fortunate might find their trip interrupted by shyness, indifference and wayward curves. Sometimes they need a little help to get back on track.
Maps of the Heart. Fortunately there are maps to guide even the most besotted through the terrain of a lover's heart. The map of "The Fortified Country of Man's Heart" claims to reveal "its defenses and modes of exposure to attack." The companion map of "The Open Country of Woman's Heart" depicts "the facilities and dangers to travelers therein."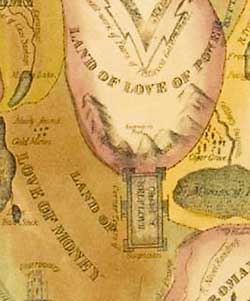 The City and District of Love is at the center of a woman's heart. But getting there is not easy — you either have to trek over mountains from the lands of Coquetry and Sentimentality, or sneak through the plains of Platonic Affection.
The man's heart is focused on the Citadel of Self Love. There are surrounding regions devoted to Love of Money and Love of Power, and even a place called "Sell Soul." Needless to say courageous travelers daring to set foot in these precincts must do so only with the utmost caution. Footnote 5 has links to maps from other times and places.5
These maps show the paths through the heart, but provide no guidance for navigating past the numerous perils one inevitably encounters. That's why experienced travelers always pack a reputable valentine writer and a good supply of flirtation cards.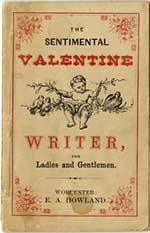 Valentine Writers. Rumor has it that sweet sayings can ease the way to a lady's heart. Unfortunately most of us weren't born with Shakespeare's gift, so generations of aspiring Romeos have turned to Valentine Writers. After all, what damsel can resist a proposal like this:
"Fate decrees, it must be so,
That you must my passion know;
Know that I am deep in love,
And your kindness wish to prove;
And with you would live and die,
Think, and send a kind reply."6
Appropriate verses are provided for the lady's reply, whatever it might be.
Flirtation Cards. These are for the tongue-tied. When a lady catches a man's eye he can slip her a card with an invitation, such as: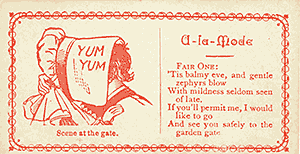 "Fair One
'Tis balmy eve, and gentle zephyrs blow
With mildness seldom seen of late.
If you'll permit me, I would like to go
And see you safely to the garden gate."
Leaving nothing to chance, the card shows the scene at the gate — a man's head hidden under a woman's bonnet enjoying a kiss. How can a girl resist.
If this card doesn't catch your fancy, footnote 9 has links to many more.9
* * * * *
So there you are. Put these guides to good use and have a Happy Valentine's Day.
-----
This article originally appeared in our free semi-monthly newsletter. To receive future issues, please add your name to the subscription list.