Boston's Swan Boats.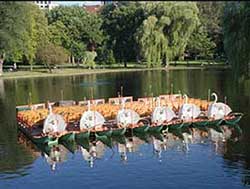 Boston loves tradition. In Spring we have Opening Day, the Marathon and arrival of the Swan Boats. Having been around nearly 140 years, the Swan Boats are the oldest of these. And remarkably the same family has operated them the entire time.
Born of Opera and Bicycles. The Public Garden's central pond has always been a popular spot for recreational boating. From the beginning rowboats were available for hourly rental from city-licensed vendors.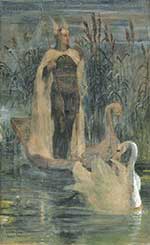 One of the rowboat concessionaires, Robert Paget, got the idea for the Swan Boats from a popular story of the day, that of Lohengrin, a knight who crosses a river in a boat pulled by a swan to champion his beloved. The story is the basis for the opera Lohengrin. Everyone knows its most famous tune, the wedding march "here comes the bride."1
Paget's boats coupled a popular story with a newfangled form of transportation, the bicycle. The boats essentially were two rowboats with a paddlewheel in between and a platform on top. Bicycle pedals and gears were used to drive the paddlewheels. The swan housing surrounds the operator's seat and drive mechanism.
The original boats had one bench and could take about eight passengers. The current boats can carry up to 20 people on six benches.
A Family Affair. Paget died in 1878 at age 42, just one year after the first Swan Boats were launched. His widow, Julia, continued the business until the early 1900s. The City, however, seems to have been nervous about giving the concession to a woman — Paget was required to provide letters from local business owners, presumably male, attesting to her ability.3
Today the Swan Boats are run by a fourth generation of Pagets under the direction of Lyn Paget.
The Ultimate Summer Job. Believe it or not, people actually get paid to paddle the boats around the pond.
Many of the Paget kids have worked there — one of the current managers, Phil Paget, worked there as a teen. And even for outsiders they like a close-knit group. When they find good workers, they try to hire their younger siblings.
Apart from getting to spend your day outside in one of Boston's most beautiful settings, pedaling a Swan Boat is good exercise — a full boat can weigh three tons. The workout makes the job attractive to athletes; the summer 2014 staff included several football players.4
Spring is almost here and the tradition continues. The 2016 Swan Boat season begins Saturday, April 16th.
-----
You can hear it on YouTube in a performance by the Hungarian National Philharmonic Orchestra and Choir conducted by Janos Kovacs.
Walter Crane, Lohengrin (1895). Image from Wikipedia.
How It Began, swanboats.com.
Billy Baker, For Swan Boat pedalers, a storybook ride, Boston Globe, August 16, 2014.
This article originally appeared in our free semi-monthly newsletter. To receive future issues, please add your name to the subscription list.