NORAD Santa Tracker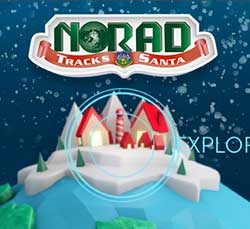 Things are busy at the North Pole this time of year: lists to be checked and updated; toy production 24/7; calibration of critical navigation systems on the sleigh (Rudolph has gone high-tech). Everyone knows that. But many don't know about the legion of helpers at NORAD (North American Aerospace Defense Command) who assist Santa in his travels every year.
This collaboration began by accident in 1955 when the hotline rang at the Continental Air Defense Command — the phone that was supposed to be used to report incoming Russian missiles. The caller was a little boy or girl looking for Santa. Apparently there had been a typo in a Sears Roebuck ad. The number that was supposed to be Santa's was actually the missile hotline.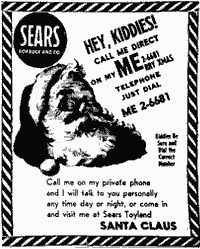 Colonel Harry Shoup gave the caller Santa's coordinates at the North Pole and instructed his staff to do the same as other children called. The story hit the news and kids started calling in droves for updates. Volunteers provided the critical information. A tradition was born.
You can still call NORAD for updates (last year First Lady Michelle Obama fielded calls from the White House), but most people follow Santa on the NORAD web site. The site is open now and has lots to do while kids wait for Santa's visit. But the real action starts on Christmas Eve, when radar, satellites and ships around the world begin the job of tracking Santa's sleigh, code-name "Big Red One," and provide video updates from major cities around the world.
This article originally appeared in our free semi-monthly newsletter. To receive future issues, please add your name to the subscription list.