How the U.S. Military Threatened Civilian Authority.
The nomination of General James Mattis to be Secretary of Defense brought to light a law barring retired officers from holding that office for seven years following active duty.1 The rule seems silly at first; don't we want the person at the top to be familiar with the organization? But a larger principle is at issue, namely civilian control of the military — one that was established by George Washington himself when it was threatened in the earliest days of the republic.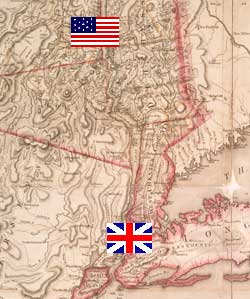 Waiting for Peace. Stories of the American Revolution usually end with the British surrender at Yorktown. But the British didn't just pick up and go home; their troops remained in New York City while diplomats negotiated a peace treaty in Paris. The Continental Army kept an eye on them from camps in Newburgh, 70 miles to the north.
For an army waiting can be as difficult as fighting. Boredom sets in making it difficult to maintain discipline, especially when the troops are not being paid. Army pay was stopped early in 1782 to conserve scarce cash. Various solutions were proposed, but then as now factions in Congress couldn't agree and nothing was done.
The Conspiracy. Discontent festered and in December 1782 senior officers presented a petition to Congress seeking redress. Discussions ensued, but no resolution was reached.
A contingent traveled from Philadelphia to Newburgh. Following their arrival an anonymous letter was circulated calling for officers to meet the next day to discuss their complaints. Another letter appeared shortly thereafter urging the troops to disengage from the British leaving the country unprotected or march on Philadelphia. Historians believe this letter was written by an aide to the base commander, General Horatio Gates, possibly with the general's knowledge.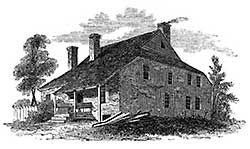 Word of the letters and meeting reached George Washington at his headquarters several miles away. He could have taken personal advantage of the situation — several months earlier he had received a letter asking him to become king.3 Instead he used the personal stature he had earned through years of public service to preserve the young republic.
The next morning Washington issued an order postponing the meeting several days to permit "mature deliberation" of the issues. The officer senior in rank, presumably General Gates, was to address the gathering and prepare a report to the Commander-in-Chief. Washington also sent letters to members of Congress reporting the situation and imploring them to do something about the soldiers' pay.
The Newburgh Address. The rescheduled meeting came to order at noon with General Gates presiding. Suddenly the doors opened and George Washington entered. He walked to the front of the room and asked to address the officers.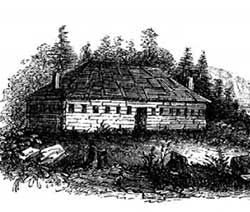 Washington began by describing the anonymous letters as having "the most insidious purposes." The suggested actions, he said, would dishonor all the army had achieved over seven years of war.
He then took eyeglasses from his pocket so he could read from a letter from Congress. Sensing that the officers were surprised to see him with glasses, Washington remarked "Gentlemen, you must pardon me, for I have grown not only gray in the service of my country but now find myself growing blind."
This display of humanity brought tears to the eyes of battle-hardened veterans. Washington called on the officers to give "one more distinguished proof of unexampled patriotism and patient virtue" and concluded by urging them to reaffirm their commitment to a republican form of government.
Washington then departed. An officer moved that the group thank him for his remarks and appoint a committee to carry out his wishes. A resolution was prepared denouncing the treasonous letters and pledging faith in Congress. It passed by acclamation, even the conspirators had to support it.6
It still took time for the soldiers to get their pay. But the Newburgh Address endures as one of the foundation documents of our liberties.7
-----
See 10 U.S.C. § 113(a). An act waiving this prohibition was the first bill signed into law by President Trump on January 20, 2017. Tal Kopan, President Donald Trump signs first bill into law, CNN Web Site (January 21, 2017).
Excerpted from map by Claude Joseph Sauthier published in London in 1779. "A chorographical map of the province of New-York in North America, divided into counties, manors, patents and townships : exhibiting likewise all the private grants of land made and located in that Province." New York Public Library Digital Collections. Accessed January 24, 2017. Flags from Flags of the World web site.
See Newburgh Letter in Wikipedia and Lewis Nicola entry at Digital Encyclopedia of George Washington.
Image from Benson J. Lossing, The Pictorial Field-Book of the Revolution, Volume II, p. 99. Harper Bros., New York (1852).
Image from Benson J. Lossing, The Pictorial Field-Book of the Revolution, Volume I, p. 685. Harper Bros., New York (1852).
Information for this article generally from William Fowler, American Crisis: George Washington and the Dangerous Two Years After Yorktown, 1781–1783. Walker & Company. New York (2011); John R. Miller, George Washington's Tear-Jerker, New York Times (February 14, 2010).
Washington's handwritten copy can be viewed on the web site of the Massachusetts Historical Society.
This article originally appeared in our free semi-monthly newsletter. To receive future issues, please add your name to the subscription list.