The Molasses Flood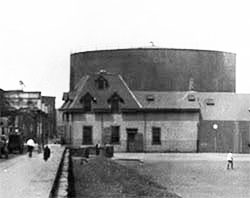 Truth is sometimes stranger than fiction. Most would dismiss as ludicrous a movie about a 25 foot high wave of molasses that flooded city streets, killed 21 people and injured 150. Yet that is exactly what happened in Boston's North End on January 15, 1919.
Modern Bostonians may wonder why someone would store so much molasses in a primarily residential neighborhood. But a century ago Boston's waterfront was teeming with shipping and commercial activity. The tank held molasses used to manufacture munitions in Cambridge. With a pier on one side and railway tracks on the other, its location was ideal.
What Happened. The tank burst shortly after noon on January 15th, releasing over two million gallons of molasses. Patrolman Frank McManus was on a nearby call box giving his midday report. Hearing explosions he turned, saw what had happened and shouted into the phone "Send all available rescue vehicles and personnel immediately, there's a wave of molasses coming down Commercial Street!"2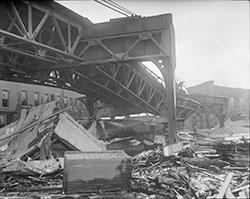 Molasses barreled down the streets at an estimated 35 mph, covering two blocks in seconds. Buildings were torn from their foundations, girders supporting the nearby elevated railroad buckled and people and animals were drowned. Rescue efforts continued for days.
Aftermath. It took weeks to clean the streets and neighborhood. Boston harbor had a brown tinge through summer. Molasses spread throughout the city on vehicle wheels and shoe soles until its smell was everywhere.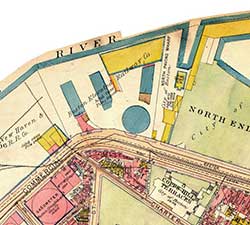 An inquest found the tank structure had been inadequate and blamed the owner, engineer and incompetent city officials. The district attorney sought indictments, but the grand jury concluded there was no basis for criminal liability.
Victims brought a class action lawsuit against the owner. Playing to the national fear of terrorist bombings, the defendant claimed anarchists had placed dynamite in the tank, although they never identified any suspects. The court held for the plaintiffs, awarding the group $300,000.
What Caused the Tank to Burst? The tank was hastily built in 1916 and leaked from the start. People said it groaned every time it was filled. But why did it fail?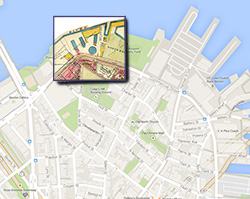 The investigation at the time found that the steel walls were thinner than specified and the rivets failed to hold. Others have suggested that a rise in temperature made the molasses ferment and then explode.
Recently a Waltham engineer, Ronald Mayville, released new studies. He agrees that the walls were too thin even by 1916 standards, but adds that the composition of steel used (same as in the Titanic) was susceptible to fracture. Modern standards would call for more manganese. He also notes that the tank had been filled 30 times, but only four times to capacity.6 One of those was on January 13, 1919 — two days before it burst.
* * * * *
People say they don't build things like they used to. Sometimes we should be thankful.
-----
Date unknown. Photo from The Bostonian Society.
Puleo, Stephen. Dark Tide: The Great Boston Molasses Flood of 1919. Boston, Mass: Beacon, 2003. page 95.
Photo taken January 15, 1919 by Leslie Jones. From Boston Public Library, Leslie Jones Collection.
Map from Boston Redevelopment Authority's Boston Atlas.
Created using Harvard's WorldMap software.
Schworm, Peter, Nearly a century later, structural flaw in molasses tank revealed, Boston Globe, January 14, 2015.
This article originally appeared in our free semi-monthly newsletter. To receive future issues, please add your name to the subscription list.