Decoration for Valor.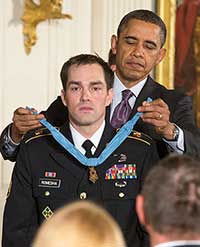 When does a general salute a private? Answer: When the private wears the Medal of Honor.
For more than 150 years the Medal has been presented to members of the United States military for acts of exceptional valor. Yet most recipients accept the honor with humility, viewing it as an individual citation for a collective effort.
Origin. America's early citizen soldiers had few medals. During the Revolution George Washington created the Badge of Military Merit, although it appears only three were awarded.1 Certificates of Merit were given during the Mexican War. Medals, however, were often disdained as reflecting "European" affectation. General Winfield Scott rejected an early proposal for a Civil War medal for that reason.
Following Scott's retirement the Secretary of the Navy proposed an award for distinguished service. Separate acts of Congress created Medals for the Army and Navy. Approximately 1,500 were awarded for Civil War service.
The medal is presented by the President in the name of Congress so it is often called the Congressional Medal of Honor. Its official name, however, is simply the Medal of Honor.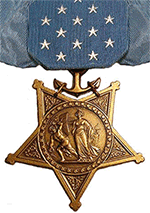 Criteria for Award. Standards for award have changed. Originally award was for those who "shall most distinguish themselves by their gallantry in action, and other soldier-like qualities." After the Civil War medals were given for non-combat acts of courage.
Today the Medal of Honor can be awarded where:
The recipient is conspicuously distinguished by gallantry and intrepidity at the risk of his life above and beyond the call of duty, and
The recipient was engaged in armed conflict against an enemy.
Only 471 Medals of Honor were awarded for all of World War II and 257 for Vietnam. At first this seems low compared with 1,500 for the Civil War. Today, however, there are various other decorations for valor, during the Civil War there were not.
Recipients. As of September 2015, the Medal of Honor has been awarded to 3,449 people. Originally only enlisted personnel were eligible. Recipients include one U.S. President, Teddy Roosevelt, and nineteen who received two separate medals.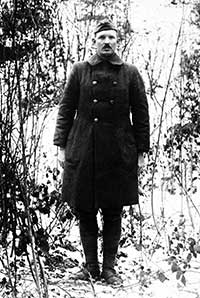 Each recipient's story contains acts of extraordinary courage, but that of Sergeant York has become a legend. A deeply religious man from rural Tennessee, York originally sought conscientious objector status. In the closing days of World War I his unit was sent to silence machine guns that were raining fire on American troops.
Suddenly 9 of the 17 men were hit by enemy fire. York assumed command. Leaving some men to guard prisoners, York advanced. At one point six Germans seeing him alone and with his rifle empty charged with fixed bayonets. York was able to shoot them all with his pistol. Eventually the Germans surrendered. York and his seven men marched 132 prisoners back to American lines.
York declined many opportunities to profit from his heroism. Such humility is typical. Receiving the Medal of Honor in 2014, Sergeant Ryan Pitts noted it is "an individual citation for a collective effort."
Sgt. Pitts received an honorary doctorate from his alma mater, the University of New Hampshire, in May 2015. Addressing the graduates he noted:
"Valor was everywhere that day … Courage is not the absence of fear; it is the ability to move forward in the face of it."5
-----
This article originally appeared in our free semi-monthly newsletter. To receive future issues, please add your name to the subscription list.