Spy in the Confederate White House.
Popular imagination sees spies as dashing heroes, surrounded by exotic cars, science fiction weapons and beautiful women. That might work at the box office, but in the real-world the last thing a clandestine operative wants is to attract attention, so most try to fade into the background. Being a housemaid at the enemy's executive mansion is the perfect job if you can get it, and that's exactly how a most unlikely Union spy gained access to some of the Confederacy's innermost secrets.2
Richmond in 1860. Looking back 150 years, it is easy to assume that all Southerners lived on plantations, owned slaves and backed secession. But Richmond was a city of 38,000 people3 and a financial, trading and manufacturing center. Many residents considered the United States their country and Virginia rejected secession by a 2 to 1 margin when it was first proposed.4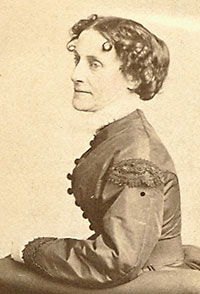 There were even a few abolitionists, including Elizabeth Van Lew, a wealthy Richmond socialite. Her family freed its slaves upon her father's death. As war clouds threatened, she prepared to subvert the Confederacy from within.
Mary Bowser. One of the Van Lew servants was an African-American woman named Mary Bowser. Born in 1839 or 1840, her intelligence was quickly noted and she was sent to school in Philadelphia and then to work as a missionary in Liberia. When she returned to Richmond, she had to conceal her education and free status since Virginia law effectively prohibited the education of slaves6 and required emancipated slaves to leave the state within a year.7
Van Lew recruited Bowser for her spy ring. Using her social connections, she recommend Bowser to Varina Davis, first lady of the Confederacy, as a reliable house servant. Davis needed help and took her on.
Undercover at the Confederate White House. We have no details of Bowser's work at the Confederate White House. Some say she kept a diary that was accidentally discarded in the 1950s. Van Lew destroyed all records of her own war-time activities.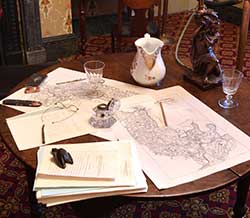 As a house servant, Bowser could freely enter rooms where Jefferson Davis was conducting business. Since she was presumed to be ignorant and pretended to be a bit "slow," conversations continued in her presence. And since it was assumed she was illiterate, no effort was made to hide sensitive papers. Bowser reportedly had a photographic memory, so her reports were filled with critical details.
Bowser passed her secrets to Van Lew by visiting with her after work. Another Union spy, Thomas McNiven, also reported that Bowser chatted with him daily when he made bakery deliveries to the Confederate White House. Van Lew smuggled the dispatches to Union forces by way of five relay points, including a family farm outside Richmond.
Escape. As Union forces advanced, their commanders seemed to anticipate the Confederate's every move and Jefferson Davis began to suspect a leak in his household. Early in 1865, Bowser became concerned that her actions were being monitored.
According to one account she confided her concerns to Van Lew during one of their evening visits. She stayed with Van Lew that night and the next day was put on the back of a farm wagon. Horse manure was shoveled on top and the wagon left the city for Van Lew's country property and safety.9
Recognition. Mary Bowser was inducted into the U.S. Army Military Intelligence Hall of Fame in 1995.10 Her efforts have also been recognized by the CIA.11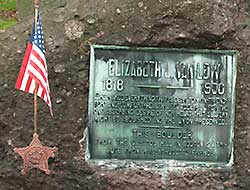 A Boston Connection. Van Lew's wartime activities depleted much of her personal fortune. Later in life, she confided this to a Union officer she had helped. His name was Paul Revere and he was the grandson of the Revolutionary War hero. Revere and other wealthy Bostonians provided funds for Van Lew's support and upon her death commissioned a special headstone with the following tribute: "this boulder from Capital Hill in Boston is a tribute from her Massachusetts friends."13
* * * * *
This story reminds us never to judge someone by outward appearances. Confederate officials assumed from Bowser's race, gender and status that she was feeble and helpless. She proved them wrong.
-----
Photograph of the Confederate White House taken by John Reekie shortly after the fall of Richmond in 1865. Image in the collection of the Library of Congress, Control Number cwp2003000696/PP. Available at LOC web site.
Information from this article comes from Lois Leveen, Mary Bowser, from the Encyclopedia Virginia web site; Cate Lineberry, Elizabeth Van Lew: An Unlikely Union Spy (May 4, 2011), Smithsonian Magazine web site and A Spy in the Confederate White House, panel discussion at the Museum of the Confederacy on April 6, 2013, video on C-Span web site.
U.S. Census Bureau list of 100 largest urban places in 1860. On-line at Census Bureau web site.
Virginia left the Union in May 1861 after President Lincoln called for troops following Fort Sumter.
Carte-de-visite portrait by A. J. De Morat in the collection of the Virginia Historical Society. Image from Encyclopedia Virginia web site.
Antonio T. Bly, Slave Literacy and Education in Virginia, Encyclopedia Virginia on-line (last updated July 11, 2017).
An ACT to Amend the Several Laws Concerning Slaves, text on-line at Encyclopedia Virginia.
Office work table at the Confederate White House. Image from Bryce VanStavern, Behind the Stanchions, A New Path, at American Civil War Museum web site.
Karen Abbott, Liar, Temptress, Soldier, Spy, Four Women Undercover in the Civil War, pp. 405-6, Harper Collins (2014).
See Military Intelligence Corps Hall of Fame web site.
P.K. Rose, The Civil War: Black American Contributions to Union Intelligence, CIA web site.
Photo taken by Albert Herring on March 13, 2010 at Shockoe Hill Cemetery, Richmond. Image from Wikimedia Commons.
Rebecca Beatrice Brooks, Paul Revere's Grandsons in the Civil War (April 16, 2012), Civil War Saga web site.
This article originally appeared in our free semi-monthly newsletter. To receive future issues, please add your name to the subscription list.