Make Way for Ducklings.
Most of Boston's literary landmarks are primarily of interest to adults. But one, Make Way for Ducklings, the charming tale of a duck family living in Boston, is beloved by young and old alike. It has never been out of print for 75 years and during that time has become ingrained in Boston culture and even played a role in international diplomacy.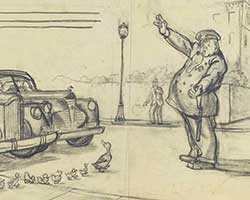 The Story. The story is about a subject familiar to many young couples, finding a suitable place to raise a family. Mr. and Mrs. Mallard investigate various locations on Beacon Hill, but none is quite right. Stopping for a bite at the Public Garden they are thrilled when people give them food and feel they have found the perfect home. But then Mr. Mallard is nearly hit by a careless bicyclist and the couple decides to settle by the Charles River. A local policeman, Michael, takes a liking to them and feeds them every day.
But fond memories of the Public Garden linger and the Mallards decide to return once their ducklings are old enough to travel. Mr. Mallard goes ahead and Mrs. Mallard sets out with the family. They get stuck when cars won't let them cross the highway and the whole family starts quacking loudly in protest. Their friend Michael the policeman hears the ruckus and rushes to halt traffic. He then calls his station to alert officers to watch out for the duck family. When they reach Beacon Street, four policemen are waiting to help them cross to the Public Garden, Mr. Mallard is waiting to greet them.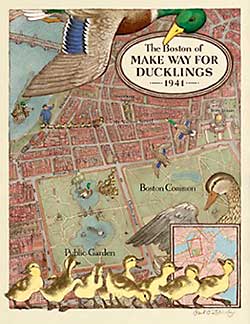 The Author and Illustrator. Like many literary works, Ducklings began with simple observations of daily life. The author, Robert McCloskey, lived on Beacon Hill as an art student and saw ducks in the Public Garden every day as he walked to class. Several years later he saw or heard about traffic snarls caused by ducks crossing Beacon Street and the story began to germinate.
Words came quickly, but McCloskey needed to learn more about ducks to draw them, so he went to the American Museum of Natural History and consulted an ornithologist. But drawings and exhibits can't reveal behavior and personality, so he bought several live ducklings and put them in the bathtub of his Greenwich Village studio. He quickly learned that ducklings get up at the crack of dawn and make a lot of noise. For weeks he crawled on the floor with a tissue in one hand and pencil in the other studying the ducks at eye level and recording how they walked and swam.
McCloskey's hard work paid off. Make Way for Ducklings was an immediate success and has won numerous awards.3
The Ducklings Statues. Over the years the Ducklings story has become as much a part of the Public Garden as the Swan Boats and Washington statue, so for the garden's 150th anniversary an artist was commissioned to create statues of Mrs. Mallard and the ducklings walking from Beacon Street to the lagoon. Walk through the Garden on any nice day and you'll see children waiting to sit on and pet the ducks while parents busily snap photos. All the loving attention gives the bronze ducks their highly polished sheen.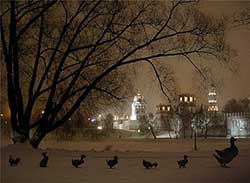 The ducklings statues have even played a role in international diplomacy. In June 1990, Raisa Gorbachev, first lady of the Soviet Union, admired them while walking through the Public Garden with First Lady Barbara Bush. The next year, Mrs. Bush presented replicas to the Soviet Union. They are installed in Moscow's Novodevichy Park, where they get as much love and attention as their Boston cousins.5
Things to Do. You can visit Mrs. Mallard and her brood in the Public Garden on the path from Beacon and Charles Streets to the lagoon.6 Here are some other ideas for family outings:
A local mom, Angela Kantz, has prepared a detailed tour of the ducklings route, together with tips for places to stop and things to do along the way. See Boston Duckling Walk.
The Museum of Fine Arts has a special exhibit for Ducklings 75th anniversary, including several of McCloskey's original illustrations for the book, a prototype for the Ducklings statue and other works by McCloskey.7
Attend the annual Duckling Day parade on May 17, 2017.8
Quite a tale from an art student's musings on his way to class. Have fun.
-----
Detail from original illustration by Robert McCloskey on exhibit at Museum of Fine Arts, Boston.
Map by Paul Zelinsky from 75th anniversary edition of Make Way for Ducklings by Viking Press. Image from Sally Lodge, Viking Makes Way for the 75th Anniversary of "Ducklings," Publishers Weekly, March 17, 2016.
Background from Anita Silvey, 100 Best Books for Children, Houghton Mifflin Company (2004), pp. 30-32.
Image from Another City web site. The Novodevichy Convent is in the background. Location on Google Maps.
Michael Kilian, First Lady Giving A Really Ducky Gift To Moscow's Kids, Chicago Tribune, July 28, 1991.
See on Google Maps.
Open through June 18, 2017. Details on MFA web site. Children 6 and under free; admission Wednesdays after 4 p.m. by voluntary contribution.
See Friends of the Public Garden web site. Fee to participate.
This article originally appeared in our free semi-monthly newsletter. To receive future issues, please add your name to the subscription list.