The Grand Tour — 21st Century Style.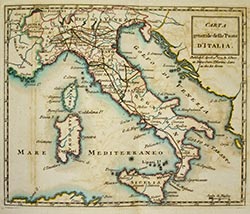 Summer's here. You may be planning, or at least thinking about a vacation. But back in the day if you were a young aristocrat you would have taken the Grand Tour — several months or even years spent touring the Continent before you settled down to life's hard work of hunting foxes and lording over the manor. Incredibly internet-connected high definition video cameras now let us visit the same places without leaving home.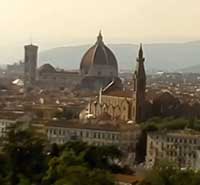 The heart of the Grand Tour was Italy — birthplace of the Renaissance, center of classical culture and a place where one can always find good Italian food. Florence was a popular destination. Approaching the city one would have seen Brunelleschi's domed cathedral, an engineering marvel even today. The image at the left is what we see through a camera at a hillside inn overlooking the city.
Once in town, we can view the medieval Ponte Vecchio, the only bridge over the Arno River not destroyed by the Nazis during World War II. And no one goes to Florence without seeing art. The Google Cultural Institute uses its street view tech­no­logy to let us roam inside the Uffizi Gallery, where we can view works by such masters as Botticelli, Leonardo da Vinci and Michelangelo. Afterward the same technology gives us four street view walks around Florence's historic center.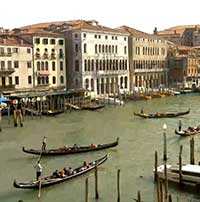 No trip to Italy is complete without a gondola ride. For us it's a short click to Venice where we can see gondolas on the Grand Canal and watch them pass beneath the Rialto Bridge. The cameras are good enough to let us watch romantic evening cruises (from a respectful distance). Moving to the harbor there is a camera looking across Saint Mark's basin to the tower on Giorgio island. And again Google gives us the ability to roam, this time in a boat with a canal view.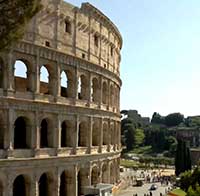 For most grand tourists Rome was the main stay. We can start outside the Colosseum. Google then takes us inside for a 360° panoramic view. Back outside we can visit the Pantheon, Spanish Steps and Trevi Fountain.
The Sistine Chapel is at the top of everyone's list. Unfortunately there is usually a long wait just to be rushed through. Unless you have connections: the Vatican has an on-line tour that takes us inside for a full 360° view. We can zoom in so close to the ceiling that it seems as though we are on the scaffolding while Michelangelo is painting.
One of the reasons for Italy's popularity on the Grand Tour was interest in antiquity kindled by the discovery of Herculaneum and Pompeii in 1738 and 1748. Those who could afford to often made the trip south from Rome to visit the ruins outside Naples.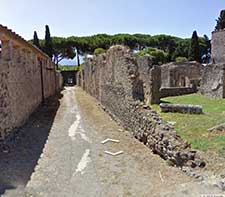 Arriving by ship one would have seen Mount Vesuvius looming in the distance. We see it across the same harbor through a waterside camera. On our excursion to Pompeii itself, Google again is our guide with four street view tours where we can walk along the ancient roads.
No virtual experience, of course, equals the real thing. Italy is famous for its food and music. So turn on some good Italian music while you take our tour.2 Then like tourists the world over, retire to your favorite Italian restaurant with a friend to relive the day's adventures.
Belissimo!
-----
Map published in Roads of Italy by Andrew Drury, London, 1774. See blog entry by Karie Jenkins, Clark Library, U.C.L.A.
Italians love opera; they created it. Superstar Luciano Pavarotti was a favorite son. You can hear his signature aria, Nessun Dorma, from Puccini's opera Turandot on YouTube.
This article originally appeared in our free semi-monthly newsletter. To receive future issues, please add your name to the subscription list.