Beautiful Doesn't Mean Stupid.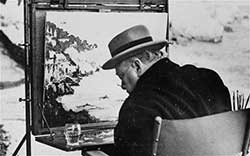 No one is surprised to learn that smart people can also be artists and athletes — Einstein was a violinist, Churchill a painter, Jefferson an architect and Alan Turing an Olympic-level marathoner. Movie stars and athletes, however, are often dismissed as incapable of anything requiring intellect. Some still regard Ronald Reagan as just an actor even though he served eight years as governor of California and eight more as President. But as the saying goes: looks can be deceiving.
Hedy Lamarr. Mention Lamarr to any young man of the 1930s or 40s and he will tell you she was a sex goddess. She had drop-dead good looks and appeared in the first intimate scene in a non-pornographic motion picture. Needless to say her lure at the box office was not intellect. But that doesn't mean she didn't have it: Lamarr invented and patented technology that every one of us uses today. And the tale of how she did it is far more amazing than the story-lines of her films.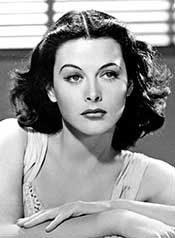 Lamarr came from a prosperous Austrian family, went to acting school and at age 18 married one of Europe's largest arms merchants, Austrian Fascist Fritz Mandl. He took her to business meetings because she was good at math. That was her introduction to weapons system technology.
The marriage didn't work out and after four years Lamarr fled to Paris and obtained a divorce. There she met movie magnate Louis B. Mayer. He brought her to Hollywood, where she was an immediate success.
During World War II, Lamarr met composer George Antheil at a Hollywood party. Their conversation turned to how vulnerable radio-controlled torpedoes were to having their guidance signals jammed or intercepted by the enemy. They came up with an idea: continuously move the signal from one channel to another so the enemy couldn't track it. The challenge was to synchronize changes on the sending and receiving units so both were always on the same frequency.
Their solution was to have player piano-like rolls control the frequency on each unit. By attaching identical roles to each unit and starting them at the same time, both would play the same "tune" and channel changes would occur simultaneously.
Lamarr and Antheil were granted a patent for a "Secret Communication System," which they donated to the Navy for the war effort. The technology was never used during the war, but today its principles, called spread-spectrum techniques, are central to the operation of cellular phone, WiFi and GPS networks.3
Whizzer White. Byron "Whizzer" White was your typical hometown football hero, that is when he wasn't playing basketball or baseball, or getting straight A's. In college he played halfback for the University of Colorado, where he was an All-American and runner-up for the Heisman Trophy. His national record of 1,121 yards rushing stood until college football seasons were lengthened from eight games.
In 1938 White was the fourth NFL draft pick, signing with the Pittsburgh Pirates (now the Steelers). As a rookie he led the league in rushing (567 yards in 11 games) and was its highest paid player.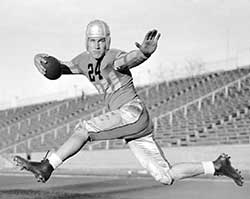 But White was an academic superstar as well and received a Rhodes scholarship only days after he was drafted by Pittsburgh. Oxford let him postpone his studies for a year so he could play football. Then while studying in England he met the U.S. ambassador's son, John F. Kennedy. Their paths would cross again.
White cut short his studies abroad when England entered World War II. Back in the U.S. he attended Yale Law School while playing football with the Detroit Lions. When the U.S. entered the War, he joined the Navy as an intelligence officer. One of his assignments was to write the official intelligence report about the sinking of PT-109 — the boat commanded by Lieutenant John F. Kennedy.
After the war White returned to law school, graduated at the top of his class in 1946 and then clerked for Supreme Court Chief Justice Vinson. Afterward he entered private law practice in Colorado. While clerking in Washington White was reunited with newly-elected Congressman John Kennedy.
When Kennedy ran for president he needed someone to help publicize his campaign in Colorado. Who better than the local football legend, "Whizzer" White. When a vacancy occurred on the Supreme Court two years later, then President Kennedy nominated Byron White to be an Associate Justice. White served for 31 years, making him the twelfth longest-serving member of the Court.5
* * * * *
So why do so many people think athletic ability and physical beauty preclude intelligence when obviously they don't? Perhaps Hedy Lamarr herself explained it best when she noted that "Any girl can be glamorous. All you have to do is stand still and look stupid."6
-----
Image from Alastair Smart, Churchill: His Unique Vision of the World, The Telegraph (September 7, 2013).
Publicity photo for the movie Comrade X. Image from Wikipedia.
Information about Hedy Lamarr from Wikipedia, Gilbert King, Team Hollywood's Secret Weapons System, Smithsonian.com (May 23, 2012) and Eliza Schmidkunz, Player Pianos, Sex Appeal, and Patent #2,292,387, Inside GNSS (September 2006).
Image from Jay Mark, Same Name, Same Game for Whizzer White Duo, The Arizona Republic (August 21, 2013).
Information about Byron White from Wikipedia, Linda Greenhouse, Byron R. White, Longtime Justice And a Football Legend, Dies at 84, The New York Times (April 15, 2002) and Alfred Wright, A Modest All-America Who Sits on the Highest Bench, Sports Illustrated (December 10, 1962).
As quoted in Richard Schickel, The Stars, Dial Press. New York 1962.
This article originally appeared in our free semi-monthly newsletter. To receive future issues, please add your name to the subscription list.