Ben Franklin in Boston.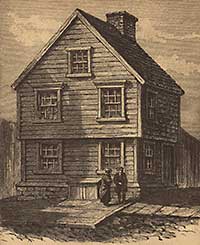 What does Ben Franklin have to do with Boston — everyone knows he was from Philadelphia? True, Franklin made his name in Philly, but he was born and raised in Boston. If you live or work downtown, you walk past his boyhood haunts every day.
The Man. Franklin is one of the most accomplished people who ever lived. During the Revolution he helped write the Declaration of Independence, served as ambassador to France and helped negotiate the peace treaty. He was a world famous scientist, founded and was first president of the University of Pennsylvania, co-founded the oldest learned society in the U.S.,2 invented a musical instrument,3 invented bifocal glasses, the lightning rod and the Franklin stove, created what was the largest public library in the U.S. until the 1850s4 and founded the nation's oldest successful property insurance company.5
Early Years. Franklin was born on Milk Street in 1706 to a family with eleven children. He attended Boston Latin School (School Street) until family finances required that he leave to help in his father's candle-making business (Hanover Street).6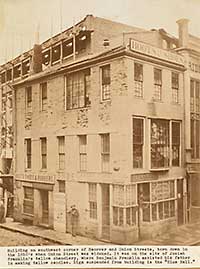 Ben didn't take to candle-making and his father was afraid he might go to sea, so at age 12 he was committed to a nine-year apprenticeship at his brother James' print shop (Court Street). Here Ben learned the trade that would make his fortune. He also learned about freedom of the press.
James published one of the first newspapers in the colonies. Unlike its rivals his paper was independent of the government and published articles critical of the political and religious establishment. In 1722 Royal authorities arrested James for libel. Sixteen-year-old Ben continued publication during his confinement.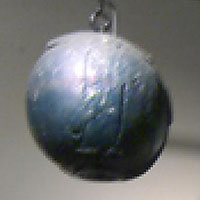 Ben, however, faced censorship at home. He liked to write, but James would not publish his work. So Ben secretly began sliding essays under the office door at night signed with the pen-name Silence Dogood. The author supposedly was a minister's widow. Fourteen Silence Dogood essays were published.
The essays were well received, but James was angry when he learned of the deceit and banned further submissions. For Ben that was the last straw. His relationship with James had been rough all along; James was often critical and sometimes violent. Ben quit even though there were five years left on his contract. James spoke to every printer in town to make sure they wouldn't hire him. With no chance of employment in Boston, Ben had to leave. Eventually he ended up in Philadelphia.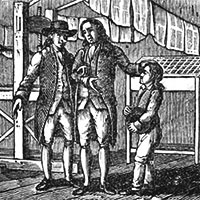 Visits Home. Ben came home to visit two years later. He had made a name for himself and the governor of Pennsylvania was urging him to open his own print shop. He sent Ben's father a letter suggesting he help fund the business. The loan was declined.
While in town Ben visited James at the print shop. Their mother had urged reconciliation, but things went badly: James felt Ben had belittled him by flaunting his success in front of his staff.
Things were different when Ben returned ten years later. By this time he was extremely successful. On the way back to Philadelphia he visited James in Providence (he had left Boston due to continued problems). James was in poor health and asked Ben to look out for his son if he couldn't. James died shortly thereafter and Ben raised his son until he could take over James' printing business.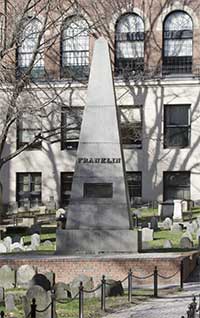 Later Years. Franklin never moved back to Boston, although he visited many times. For example, it was during a visit in 1746 that he first saw experiments with electricity. Three years later he invented the lightning rod.
Franklin also maintained strong family ties to Boston. The large obelisk at the center of the Granary Burying ground is the memorial he provided for his parents. And one of his closest confidants was a Boston sister, Jane. Franklin corresponded with her regularly and provided material support when needed. His will allowed her to continue living in a Boston house he owned.10
Legacy. Boston fared well in Franklin's will, receiving equal treatment with Philadelphia. A bequest of £2000 was to be divided equally between the two cities. Remembering that he had needed help from two friends to start his own business, part of the bequest was to be used for loans to apprentices. The remainder of Boston's share went to fund the Benjamin Franklin Institute of Technology.11
-----
Illustration from The Memorial History of Boston, Vol. 2, pg. 272, edited by Justin Winsor, James R. Osgood & Co. (1882). Available on-line from Boston Public Library. The building was destroyed by fire in 1811.
American Philosophical Society (1743).
The glass harmonica. Mozart, Beethoven and other 18th century composers wrote music for it.
The Library Company of Philadelphia. Founded in 1731, it was the largest public library in the United States until the 1850s. Today it is an independent research library. See Library Company web site.
The Philadelphia Contributionship, founded in 1752, continues in business today as a mutual insurance company.
See generally Franklin's autobiography, available on-line at Project Gutenberg.
Photo taken around 1850 is in the collection of the Boston Public Library. Image available on Digital Commonwealth web site. The building was torn down when Union Street was widened in the 1850s.
Blue ball sign from outside Franklin family's candle shop at Hanover and Union Streets. Photo from Franklin Tercentenary web site. Sign is in the collection of the Bostonian Society.
Image from Samuel Goodrich, The Life of Benjamin Franklin: Illustrated by tables, sketches, and anecdotes; Adapted to the use of schools, Thomas, Cowperthwait & Co., Philadelphia (1841), online at Hathi Trust digital library.
Jill Lepore, Book of Ages: The Life and Opinions of Jane Franklin, Knopf (2013).
See Benjamin Franklin Institute of Technology web site.
This article originally appeared in our free semi-monthly newsletter. To receive future issues, please add your name to the subscription list.