Armchair Safari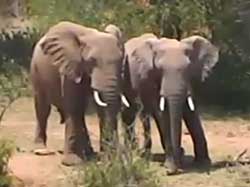 It used to be only the very rich with lots of time could go on safari. Today everyone can participate, at least remotely, through live internet video cameras. Here are a few places you can visit. The underlined links take you to the cameras.
The cinematic safari explores darkest Africa. A popular on-line site is Pete's Pond1 in the Mashatu Game Reserve (Botswana). National Geographic installed the first camera in 2005. The pond is visited by elephants, monkeys, giraffes and all manner of birds. Remember when it's noon in Boston it's 6:00 p.m. in Botswana, so East Coast viewers will want to visit early in the morning or late at night.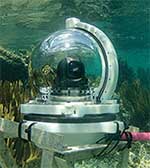 If nothing is happening at Pete's, you can move over to the Tau Game Lodge in South Africa's Madikwe Game Reserve. Madikwe is home to the "Big 5" safari animals: lion, elephants, Cape buffalo, leopards and rhinoceros. With patience you might see them all.
Parents and educators will definitely want to visit the Mpala Research Centre (Kenya), which has four cameras plus a field guide and teacher's resources. And if you didn't see all the "Big 5" at Madikwe, try Djuma Game Reserve (South Africa) which has operated a waterhole camera since 1998.
Of course Africa doesn't have a monopoly on interesting wildlife. The internet brings us Giant Pandas in China, bear, salmon and other animals in Katmai National Park (Alaska) and even wild boar in Estonia.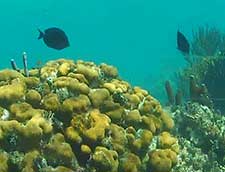 There's aquatic adventure as well. The picture at the left is taken by an underwater camera at a coral reef at Grand Cayman island. The camera itself is shown above. There are also a Shark Cam located 35 miles off Cape Fear, North Carolina, and three underwater research cameras under the Pacific.
In Spring many on-line travelers favor cameras with nesting birds. A perennial favorite is the Hawaiian home of an albatross family. This year two nests are within camera view, each with its own chick. The site is sponsored by the Cornell Lab of Ornithology, which has several other nest cameras.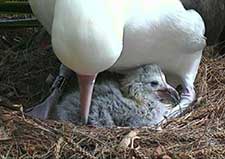 Animals like people can have squabbles. NPR ran a feature2 about a love triangle in an Ospreys' nest. After a couple had settled in, a second female arrived. The original female drove her out, but who knows, maybe the interloper will return. Latest developments live at the Boulder County (Colorado) web site.
All from the comfort of your favorite chair.
-----
The history of the pond itself is interesting. It was created by Pete Le Roux from the remnants of a failed irrigation project to lure animals away from watering sites on the Limpopo River, where poachers hunted them. It has attracted large numbers of animals to the Mashatu Game Reserve. See Why Pete's Pond at the National Geographic web site.
Hood, Grace. "Better Than 'Survivor': Wild Drama Hooks Viewers On Nest Web Cams." NPR.org. April 12, 2015.
This article originally appeared in our free semi-monthly newsletter. To receive future issues, please add your name to the subscription list.