Apple I Computer Sells for $671K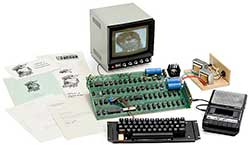 Most antiques and collectibles begin as junk that someone didn't throw away. A few become valuable, like the working Apple I computer that recently sold at auction for $671,400.
You could have bought it new in 1976 for $666.66. Only a few hundred were produced in the Jobs family garage. But in an era when personal computers were sold as kits to hobbyists who assembled them, the Apple I was already built, although you had to put it in a case yourself.It was the next model, the Apple II, that sold millions and made Steve Jobs and Steve Wozniak technology legends.
The computer sold at auction was purchased from its original owner for $40,000 earlier this year. The buyer put it in working condition and got Steve Wozniak to sign it. He transported it to Germany for auction wrapped in a blanket.
To learn more about the Apple I and the auction, see —
This article originally appeared in our free semi-monthly newsletter. To receive future issues, please add your name to the subscription list.