His Father Was Moved by Visits to Sites Associated with Martin Luther.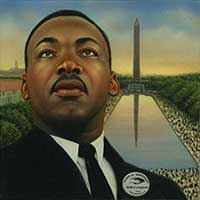 Nobel Laureate Martin Luther King, Jr. was originally named Michael for his father.1 The name Martin Luther came later for both of them.
Dr. King's father was pastor of the Ebeneezer Baptist Church. In 1934 he attended a religious conference in Germany and was deeply moved by visits to sites associated with Martin Luther.
Back home the elder King changed both his and his son's names to Martin Luther King. It's not clear whether formal legal papers were filed, but all the son's adult records, including his Nobel Prize and arrest records, give his name as Martin Luther.
-----
Dr. King's birth certificate has the typewritten name "Michael" crossed out in pen and "Martin Luther" handwritten to the right. See copy from Stanford's King Institute on Google Cultural Institute web site.
Keith Birdsong painting of winning design for 1999 Martin Luther King, Jr. stamp. Image from civil rights exhibit on Postal Museum web site.

Interesting? Visit Fun Facts for more. Or try Fun Places to Go, Live Webcams, our Photo Gallery, Musings and Neighborhood History.