Someone Bought Red Scarves
for the Rowing Team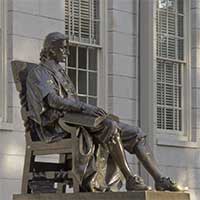 Harvard's 1858 rowing team had a problem — fans watching from the shore couldn't tell which boats were theirs. Solution: wear brightly colored scarves while on the water.
The task of outfitting the team fell to Benjamin Crowninshield and future Harvard president Charles Eliot. Crowninshield and his sister Alice purchased six bright red handkerchiefs, which members of the crew wore while racing.
That started but didn't finalize the crimson tradition. The next year a new purple color called Magenta became the rage. It was named for a town in Italy where armies fighting for Italian independence defeated their Austrian rulers. Italian independence was a popular cause and sporting the new color was a way of showing solidarity with the freedom fighters. In 1873 Harvard's new student newspaper was named The Magenta.
But traditions, even young ones, die hard and crimson still had its advocates. In 1875 Harvard students overwhelmingly voted to make crimson the school color. The next day the school paper changed its name to The Crimson. The Harvard Corporation made crimson the university's official color In 1910.

Interesting? Visit Fun Facts for more. Or try Fun Places to Go, Live Webcams, our Photo Gallery, Musings and Neighborhood History.