Franklin Was Born in Boston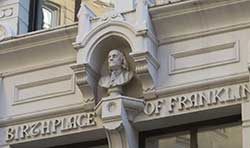 Even though Benjamin Franklin spent his adult years in Philadelphia, London and Paris, he was born in Boston in 1706 at what is now 1 Milk Street. The bust shown at the right is on the third floor of the building at that site.
Franklin moved to Philadelphia in 1723 following a dispute with his older brother, for whom he worked as an apprentice. In his will, he left equal sums to the cities of Boston and Philadelphia. Proceeds from that bequest helped found the Benjamin Franklin Institute of Technology.

Interesting? Visit Fun Facts for more. Or try Fun Places to Go, Live Webcams, our Photo Gallery, Musings and Neighborhood History.