There Was Once a Beacon on Top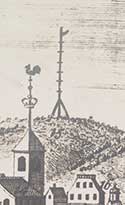 How do you warn people of impending danger without sirens, telephone or internet? Simple: light a warning beacon that can be seen for miles around.
In March 1635, only five years after the Puritans arrived in Boston, the colonial government ordered "… that there shalbe forth with a beacon sett on the centry hill at Boston, to give notice to the country of any danger …."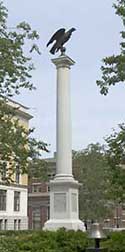 A beacon tower was erected where the State House now stands on what was then called "Sentry Hill." Several stood there from 1635 until 1789, when the last one was blown down in a storm.
The beacon tower was replaced by a monument celebrating American independence. Designed by Charles Bullfinch, architect of the State House, it stands to this day at the top of Beacon Hill.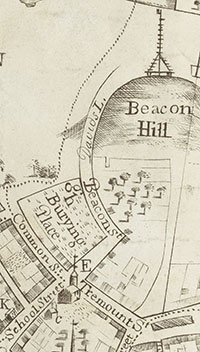 There is no record of the colonial beacon ever being lit in an emergency.2
-----
Detail from "A South East View of ye Great Town of Boston in New England in America" by William Burgis. Image from Boston Public Library.
History generally from Wheildon, William W., "Sentry or Beacon Hill; the Beacon and the Monument," 1877, Concord, Massachusetts.
Detail from William Burgis' 1728 Boston map. Note Beacon Street at bottom of hill. At lower left, School Street exists at the same location today. The building at the end of School Street labeled "E" is the former building of what today is King's Chapel. Full map at Boston Public Library.

Interesting? Visit Fun Facts for more. Or try Fun Places to Go, Live Webcams, our Photo Gallery, Musings and Neighborhood History.